In this 125th anniversary year of the commencement of the Society of Trained Masseuses in the United Kingdom, arguably the beginning of the physiotherapy profession, the International Physiotherapy History Association (IPHA) is calling for nominations from the global physiotherapy and physical therapy (physio) community to help determine History's Greatest Physios.
Clarifying what 'greatest' means
It is of course tempting to interpret 'greatest' as meaning most well-known, most prominent, most popular or most famous, and while these are valid reasons to nominate someone as one of History's Greatest Physios, we should be careful not to exclude those people whose influence has been more diffuse and, perhaps, less vocal or visible.
Entry details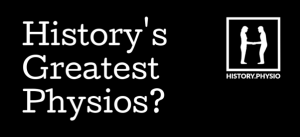 Nominations can only be made on this page, opening on 1 October 2019 and closing on 21 October 2019.
Nominations are open from individuals and organisations alike.  Simply enter the name of the person you believe was or is one of History's Greatest Physios and tell us why in 300 words or less.  There is no limit to how many entries you make if you believe more than one person should be considered.
The entries will be judged by a panel made up of the Executive of the IPHA and invited judges.
The winners of the History's Greatest Physio project will be announced on 22 November 2019 on this page.  To ensure you don't miss any announcements, simply join the IPHA to receive our regular updates.
A great conversation starter
If you are looking for a conversation starter in the staff room, just ask your colleagues who they think are History's Greatest Physios.  When their convictions are strong enough encourage them to make a nomination here at www.history.physio/greatest.
On social media please help us get the digital conversation going with the hashtag #GreatestPhysios and using our project logo, above.  Right click on the image, save it to your desktop and then post it in your social media.
Project partners
We would like to thank our project partners who are helping us raise awareness of the history of our profession: